My Carp fishing is my carp fishing.
Now that opening statement may sound a little strange but what I am saying is that I have no interest in what the current tackle trend is or the new wonder rig or the all new all singing all conquering bait is.
What I am interested in is achieving is a detailed level of consistency with in my own fishing. Now this consistency is almost obsessive. It is all encompassing from balancing my time on the bank to the time spent with my family, to using the right rod for the job and the right reel, to the length of my rig, to the buoyancy of my pop ups right through to where the line enters the water and having my reel handles all at the same height and position! Now even at times I feel that my almost bipolar obsession is a l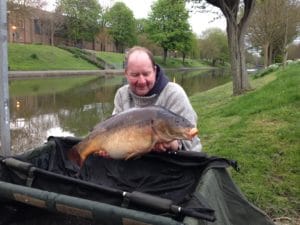 ittle worrying. But it is part of my fishing.
I guess that is why I use Delkims. Unlike every other alarm the Delkim works on vibration rather than a wheel turning. And that's precisely the point.
My main venue at present is a long canal that winds its way alongside of the Kent and Sussex coast line. Now all of my fishing is at short range and most of it takes the form of dropping my rig literally in the edge and fishing a heavy fluorocarbon mainline so as to keep every thing pinned down. I also fish with my gold spools locked up as there are many snags such as trees, bushes, shopping trolleys and mooring points for the electric boat and rowing boats that the carp will head for when hooked. 
Now with a roller buzzer fishing locked up means you will may get possibly one or two beeps as the slack line tightens on the take. Not really perfect is it, especially if  you are night fishing. However with the Delkim working on vibration the tightening of the line and the carps pulling will create a continuous tone. Now that is Perfect! 
Also when fishing tight to the bank there is a tendency for the carp to actually arch or kite away from the bait rather than run and again this type of line movement does not always cause a wheel based alarm to rotate and as such provides no audio indication. However not so with the good old Delk. In truth the Delkim is capable of somehow telling you more than other alarms..
The battery life is also consistently good and again I only change my batteries once a year on the winter clock change, and this is done more in keeping with my little personal disorder rather than the alarms actually needing new batteries! 
Then you have those lovely carbon snag bars or Safe-D as they are known. I love the additional back plate and the way you get longer screws. How easy and how well thought out. And again so much easier to slide the bar in rather than having some Meccano type assembly protruding from below your alarm and sticking out. 
The last thing to mention is I fish very much alone. I like it better that way, and I really love the little glow of those two green Led's shining at me through the long cold damp winter nights. They somehow make me feel not so alone! They peep through the misty darkness like little droid eyes. Then there are the bobbins the little  ES's, these are really lovely. The attention to every detail is fascinating and again the subtle glow at night is so much nicer that a glaring isotope. 
Detail is detail, and to me an important part of my fishing. My rigs even though simple, are consistently precise in every detail. My rod and reel combination again is a paring that is right in every detail. 
Now there are those companies who do deliver this kind of detail in their own respected fields. When it comes to the field of alarms and indication, Delkim delivers detail on levels that other alarms out there simply cannot achieve.
I love my EV's and ES bobbins as they provide me with a consistent bite indication system that is faultless and as I say Consistency is a key component in my carp fishing!