All Delkim bite alarms use our unique PIEZO VIBRATION SENSING system which is able to indicate, proportionally, the speed of linear line movement and vibrations from rod tip nods and terminal tackle that do not always move the line. NO CONVENTIONAL ROLLER BASED BITE ALARM CAN DO THIS. The almost infinite range of sensitivity/response adjustment can be finely tuned to suit all conditions, methods and user preferences. This is why Delkim bite alarms continue to be the choice for experienced anglers where reliable bite indication is all important and has undoubtedly resulted in more fish on the bank for Delkim users.
How does Piezo Vibration Sensing work?
Briefly, the line runs over a "V" shaped guide, directly coupled to a Piezo Vibration Sensor. Any slight movement or vibration is picked up through a Piezo Vibration Sensor which produces a very low electrical voltage. Advanced electronics, including the very latest Micro-controller and Digital technology, amplify and process this voltage, to give bite indication by way of audible and visual pulses (beeps and LED flashes). Sampling and filtering are carried out to remove unwanted vibrations and the level of vibration sensed is translated into the repetition rate (speed*) of the pulses. User controls adjust the overall sensitivity/response to compensate for different conditions, lines, methods and user preferences.
*The Txi-D has an additional Beep Speed Control that allows the beep rate to be adjusted totally independently from the Response setting allowing high Response with slow beeps and low Response with fast beeps or anywhere in between for TOTAL CONTROL.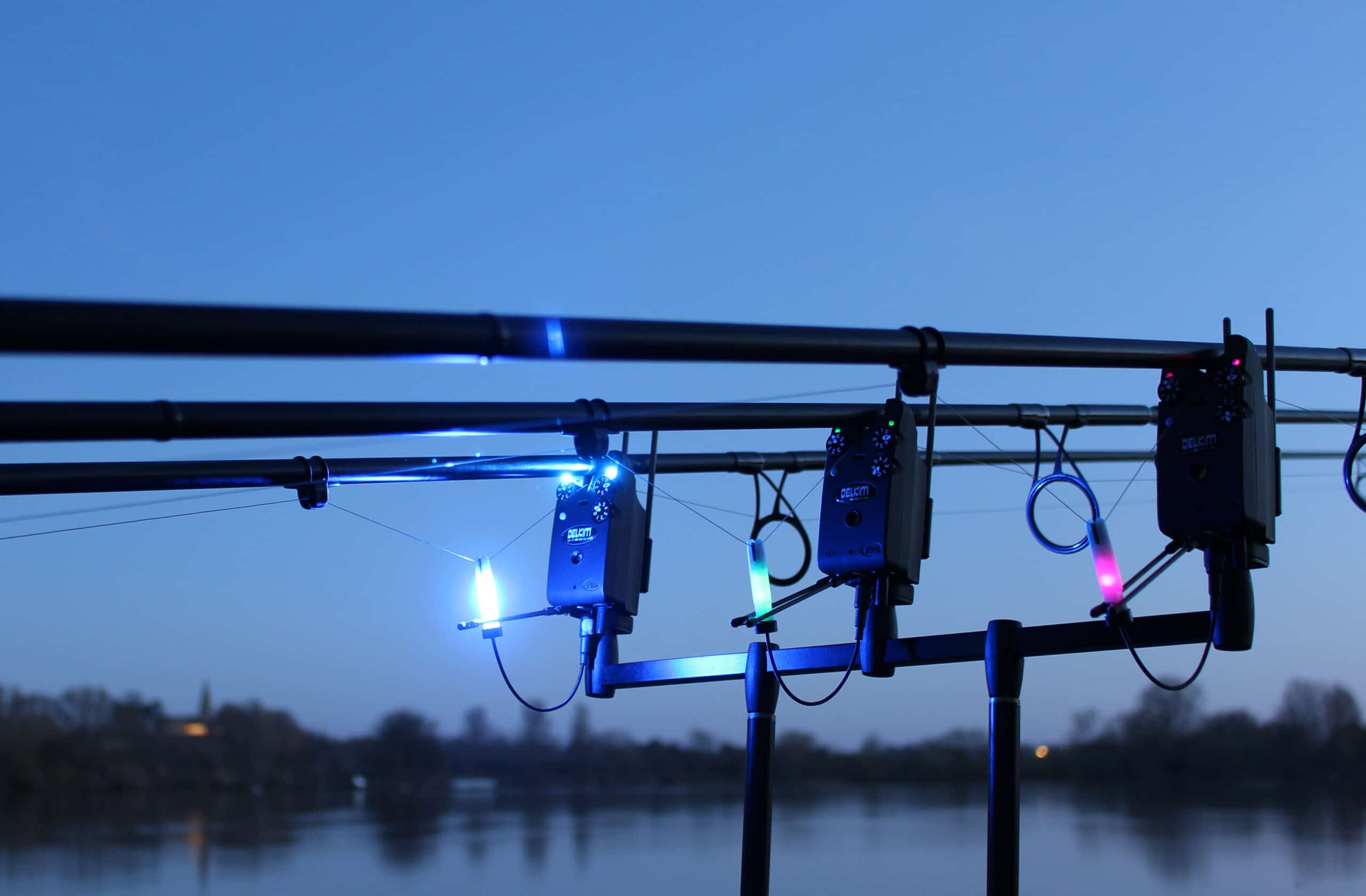 What are the main benefits of Delkim Vibration Sensing to the Angler over conventional bite alarms?
Vibrations from the line can be indicated without the line actually moving.
The user has total control over sensitivity adjustment giving optimum bite indication covering all conditions, lines (particularly braids), methods and fishing styles, where a bite alarm can be used
Bite indication will continue in all weathers even when frozen solid.
Indications can be given with just the weight of line alone touching the line guide, a particularly useful feature when fishing for Pike and Eels.
The earliest possible warning of a bite is given, which is particularly useful when fishing next to snags.
Can this make the Delkim too sensitive/responsive?
Absolutely not. It gives the user the ability to boost the sensitivity/response to show the presence of fish in the swim via small tweaks and pulls should conditions allow or alternatively to back off the sensitivity/response to overcome, in extreme cases, even bow waves from passing boats, yet still pick up a run. With a sensitivity control giving micro-adjustment, FALSE INDICATIONS CAN BE TOTALLY ELIMINATED.
How easy is it to set the sensitivity/response level?
Simplicity itself. The user simply sets the sensitivity/response control to give the required level of beeps. Further adjustment can be made to increase or decrease the sensitivity/response level as required. There is no optimum sensitivity/response level, it is totally dependent on user preference and experience but correct adjustment will GUARANTEE NO FALSE INDICATIONS.